Hospitality
Aman Spa
The Connaught Hotel, London
Bringing crisp, natural-feeling light to an underground gym space.
Project Overview
Client
The Connaught Hotel
Bringing crisp, natural-feeling light to a high-end gym facility below ground level.
Below The Connaught, a 5-Star hotel in the heart of Mayfair, London, is a luxury Aman Spa facility, the first of its kind to be situated outside of an Aman Spa resort.
Specialising in their world-renowned relaxation therapies and well-being treatments, the Aman Spa is a carefully designed retreat available to The Connaught's residents and guests.
Alongside the well-known therapy rooms and spa facilities, the Aman Spa also features a high-end health and fitness centre that is fitted with a range of advanced exercise equipment.
While much of the Aman Spa's design and lighting themes focus on warm hues and soft relaxing tones of light, the gym facility is specified to feature bright and clear lighting, naturally required for more intense activity and concentration.
Ideally, these sorts of spaces would feature some sort of natural lighting, either in the form of real windows to the outside or structural light pipes. However, for a spa facility located 2 floors below an early-19th-century hotel in the center of London, this simply isn't an option.
This is where Innerscene's Virtual Sun A7 is able to offer a refreshing and natural-feeling alternative to typical artificial lighting.
The combination of the Virtual Sun A7's high-CRI sky and extremely realistic 'sun' component creates a lighting atmosphere that can easily be mistaken for real daylight.
Most of our guests do think we have windows and it is a natural light. It creates a very nice environment and boost you for your workout.
The space looks also much bigger.
Marion Kapellas
Spa Manager
The effect of this natural-feeling lighting scheme is of huge benefit to any subterranean space, eliminating the closed-in feeling of an interior environment with no windows or access to daylight.
For a gym facility, this is specifically beneficial, promoting a fresher and cleaner feeling space than would normally be possible below ground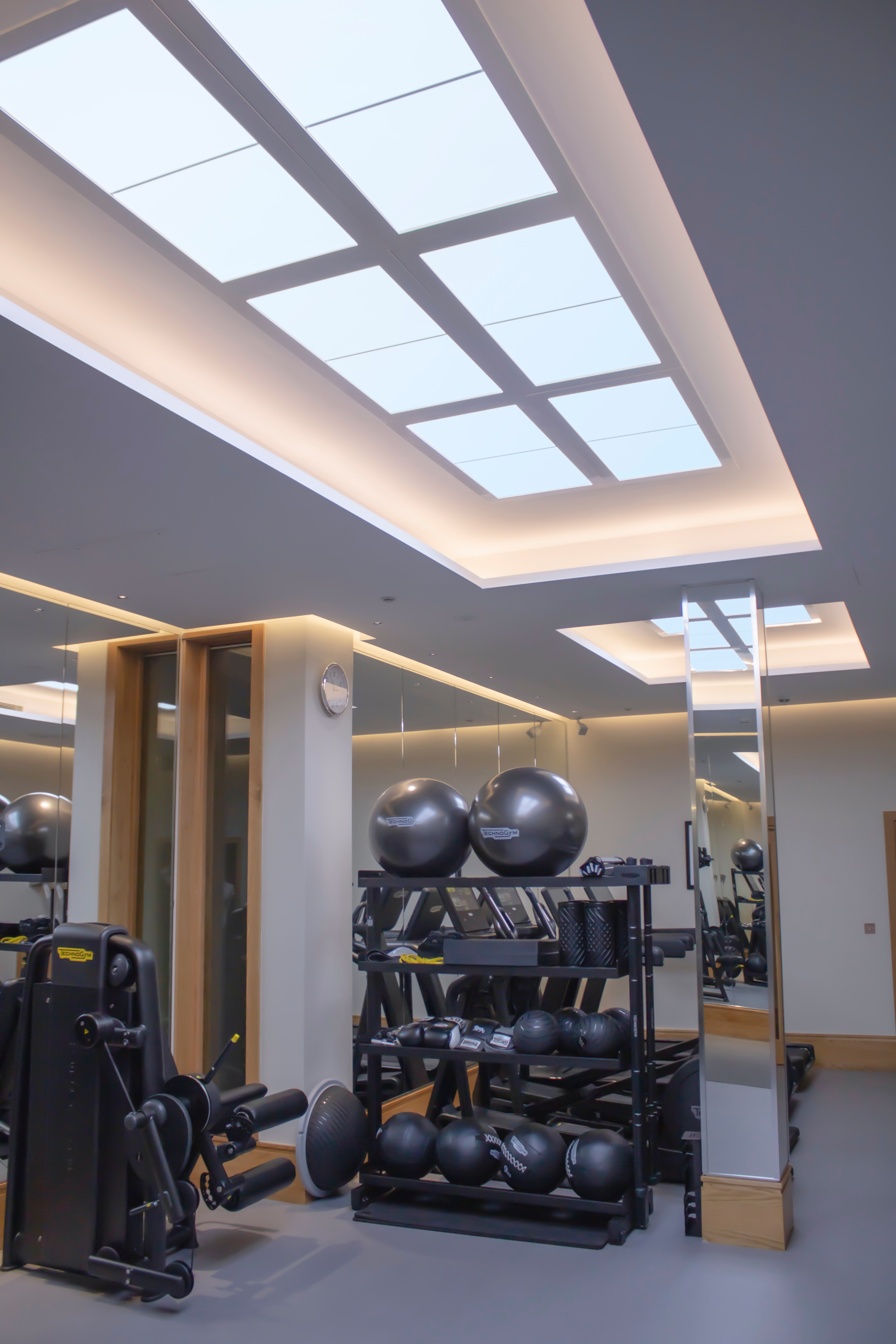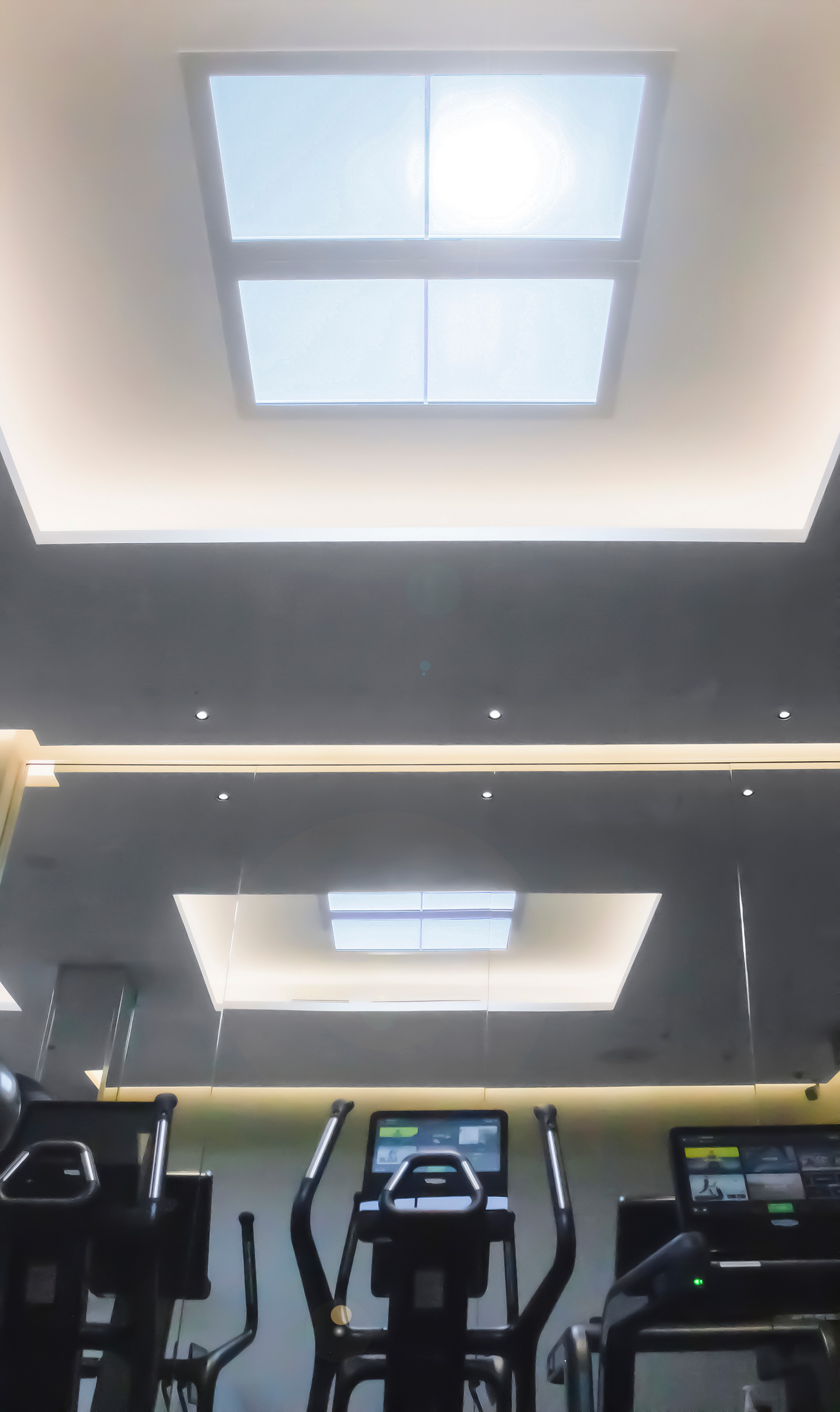 Including the pleasant and uplifting qualities of real daylight normally would not be possible in an underground setting, but Virtual Sun A7 goes some way to overcoming this practical limitation of subterranean spaces by bringing crisp, natural feeling light into the space.
By connecting the Virtual Sun A7 arrays to the same control system as the other lighting fixtures, the whole room's scheme can be controlled and adjusted from a single point.
The Virtual Sun A7 has proven to be a welcome addition to the Aman Spa's health-focused setting, even surprising guests when they learn they're not experiencing real daylight when standing below the fixtures.
The installations in the Aman Spa's gym area are fitted into recessed 'false-ceiling' spaces that feature additional accent lighting. This heightens the appearance of the artificial skylights as genuine windows to the outside world.
Complementing an a downlighting system around the room provides a nice contrast between typical interior lighting and the daylight-simulating aspects of the artificial skylights.
An additional capability of the Virtual Sun A7 is its ability to match its color temperature to the time of day. This is another important feature for below-ground areas to help support people's alignment with the natural circadian cycle.
This circadian function can be adjusted and controlled by a wall mountable remote. At the Aman Spa, the Virtual Sun A7 array has been integrated with the same lighting control system as the downlighting, allowing for total control from a centralised point.
A subterranean, health focused setting is the perfect environment for the Virtual Sun A7 to showcase its wide array of practical benefits and features. In keeping with the hi-tech facilities of the Aman Spa, this installation is a perfect demonstration of artificial skylight's capacity to completely transform a space.